Glenda M. Burrow
VIP Member of the Month Hospice Nurse,
40 Years
Elisabeth Milbourne, RN
Disaster Relief Nurse

Molly the Virtual Nurse Will See You Now
Keywords: nurse , nursing , virtual , app , technology , future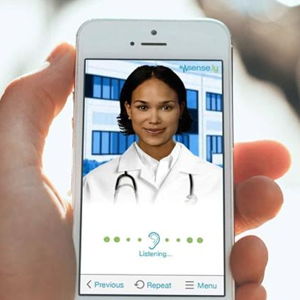 Imagine that a computer takes care of a patient's nursing needs. Are you imagining yourself in the year 2078? Or the year 3000? What about 2015? That vision is not too far into the future for Adam Odessky, CEO and creator of Sense.ly, a new company that aims to assist patients digitally and on-the-go. San Francisco investors have called Sense.ly a "virtual nurse," and have awarded the company with over $2.2 million dollars in funding.
New investors in the round include Fenox Venture Capital, TA Ventures, and Launchpad Digital Health. Sense.ly has developed an interactive, animated nurse avatar called Molly, which provides follow-up care to patients, focusing mostly on those who have chronic diseases. Using gesture capture based on Microsoft's Kinect as well as a Nuance-powered speech recognition engine, Molly can analyze a patient's condition and provide insights into what steps patients should improve their health. The program is offered under a "Software as a Service" business model, which means providers can deploy it either as a kiosk or on a tablet.
Studies done on Molly so far — including the UCSF eHeart study, which leveraged mobile health apps and connected consumer medical devices in an effort to track and monitor 1 million people in real-time — have shown that patients get used to interacting with an avatar pretty easily. "People developing relationships with virtual humans is a new reality," Odessky noted. He was quick to note that Sense.ly is not a nurse or a doctor, but a tool to help nurses and doctors take better care of their patients. "Molly is here to fill in the gaps that clinicians can't. The software stratifies patients by risk and serves as an early warning system for clinicians before symptoms exacerbate. This enables clinicians to help their patients faster," he said. New clients have jumped aboard Sense.ly, including National Health Service of the UK, Dudley Clinical Commissioning Group, Novartis, and The University of California – San Francisco (UCSF), and the interface is now capable of interacting with patients in English, Spanish, Mandarin, and 24 other languages, which should allow the company to start deploying its software on a global scale.
On its website, Sense.ly offers particular mobile platforms for congestive heart failure, diabetes, and behavioral health. Patients can currently sign up with Sense.ly with the click of a button – at home, or at their care facility, and then Sense.ly follows up with a personalized care plan, "allowing clinicians to seamlessly monitor risk factors and adjust clinical protocol as needed. Patients check in with the nurse avatar periodically, based on care plan parameters, and Sense.ly triggers clinician action as needed," the website indicates. By collecting triage information and making recommendations on care, Sense.ly can ease the workload of clinicians with its scripted software tool. "For any kind of conversation that is very scripted and process driven, you don't necessarily need a human brain," Odessky said. "It's the perfect level of complexity for a virtual nurse and saves clinicians a lot of time by automating those tasks." About 30 percent of patient follow-ups are scripted, according to Odessky.
Though nurses will never be able to be replaced, inventors like Odessky are creating apps to make their jobs easier and more efficient. To check out the website, go to www.Sense.ly.