Glenda M. Burrow
VIP Member of the Month Hospice Nurse,
40 Years
Elisabeth Milbourne, RN
Disaster Relief Nurse

Yoga Therapy Helps Head and Neck Cancer Survivors Lead Better Lives
Keywords: yoga , therapy , cancer , survivors , better life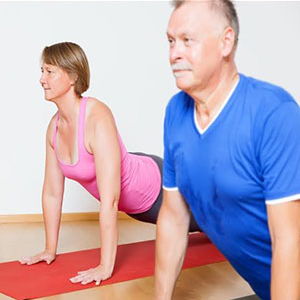 Cancer treatments can ravage a patient's body and leave him or her feeling terrible. New research indicates that these patients can gain an improved quality of life if they are able to undertake yoga therapy. Researcher Sheila Ridner, PhD, MSN, RN, Martha Rivers Ingram Professor of Nursing at the Vanderbilt University School of Nursing, is conducting a study to examine the effects of yoga therapy on cancer survivors who have recently undergone treatment for some form of head or neck cancer.
Like many other cancer patients and survivors, people with head and neck cancers often suffer from fatigue, lymphedema and a number of other symptoms. But they also face other problems as a result of their treatment. "Their posture is just destroyed after all the treatments," added Ridner, describing patients who are hunched over and sometimes even unable to stand upright.
Her study, funded by the National Cancer Institute and National Center for Complementary and Alternative Medicine, as well as the Vanderbilt School of Nursing, was designed to help these cancer survivors improve their posture and to increase the mobility of body parts affected by lymphedema--as well as to help their breathing and even lift their mood.
This study is similar to one researchers from the Ohio State University Comprehensive Cancer Center-Arthur G. James Cancer Hospital and Richard J. Solove Research Institute devised. Doctors recruited 200 women for a randomized controlled trial to determine if yoga sessions could help women who had recently completed all their breast cancer treatment; the results, which showed that twice-weekly sessions over the course of 12 weeks reduced fatigue and inflammation, were published in 2014 in the Journal of Clinical Oncology.
Like the growing popularity of other complementary therapies, the therapeutic use of yoga will probably continue to be of interest to researchers. Only time will tell what effect it might have on rehabilitation nursing, physical therapy and related fields. "It will probably pick up, to some degree, even without substantial growth of the evidence base," said oncologist Jeffrey White, MD, director of the National Cancer Institute's Office of Cancer Complementary and Alternative Medicine. "But the evidence base should push it along more."
Many other cancer studies that examine the effects of yoga therapy have involved breast cancer patients or survivors. Therefore, many of them involve women, including the Ohio State University study and another 2014 study published in the Journal of Clinical Oncology. The second one, conducted by researchers at the University of Texas MD Anderson Cancer Center, assessed the benefits of yoga in women with breast cancer who underwent radiation therapy.
By contrast, the majority of the participants in the Vanderbilt study so far have been men, which isn't surprising given the higher prevalence of head and neck cancers in men; other risk factors for these cancers include smoking, alcohol use and HPV infection. Most, if not all, of the participants were new to yoga. Ridner has received notes from several men who have completed the study. "They were skeptics to begin with, but now they say they never felt better in their lives," she said.
She hopes to ultimately enroll 40 people, with more than 20 having already participated. And she's taking feedback from her participants to heart and planning to develop a chair-based protocol for cancer patients to use during treatment. "They really felt like they could have done a lot of this during their cancer treatments and prevented a lot of the problems," Ridner said.
Sources: