Glenda M. Burrow
VIP Member of the Month Hospice Nurse,
40 Years
Elisabeth Milbourne, RN
Disaster Relief Nurse

A Power Union: Patients and Nurses
Keywords: career advice , stress , healthy life , work-life balance , mind , self-help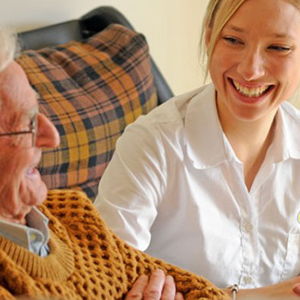 One of the key contributing factors to an overall successful experience in the hospital would be how well patients and nurses collaborate with each other, and it is this unique relationship that patients and nurses have that can lead to better outcomes in health management. Over the years this relationship has experienced various changes and it's important to dissect the reasons behind these changes.
A study by Halldorsdottir was conducted in 2008 and it states that the interpersonal aspects of nursing are all too often devalued and reduced to a set of behavior skills. It has been determined through extensive research that the "core of nursing" starts in the nurse and patient relationship. Developing good relationships with nurses creates feelings of security and can reduce the levels of anxiety and fear during a patient's stay in the hospital.
The Halldorsdottir report also goes on to state that there are practically 4 needs of a man. One of these needs would be relatedness. A patient that is able to have relationships with others, receive the proper amounts of care, establish a mutual respect with the nurse, and to share knowledge about his or her condition with the nurse is more capable of succeeding in the healing process. The report also calls for nurses to have a period of self-reflection. A nurse must examine how he or she regards patients.
Former patients have voiced their opinions over the years about the treatment they have received from nurses. All of these opinions vary between both possible extremes. Some patients have praised the help of nurses, stating that the nurses were there for them and that the nurses were not only friendly but also compassionate and understanding of their medical situations. However, other patients have voiced their frustrations with the nurses, stating that they were either too preoccupied with much less significant issues, such as socializing with co-workers, or the nurses were unwilling to freely communicate with the patients.
Former patients have also said that they felt isolated and trapped if they had nurses who were not able to reach a common ground with them. It is stressful enough for a patient to be in a hospital and not initially know what is medically wrong with him or her, but nurses would not be helping matters if patients are left in the dark about their conditions for long periods of time. Patients put great emphasis on the importance of being able to share their feelings, whether positive or negative with nurses because this goes a long way in verifying the trust that patients have for the nurses as well as validating the competence of the nurses as workers in understanding patients' situations. A 2009 study demonstrated that improved patient satisfaction due to increased and appropriate staffing is reflected on hospital scores on HCAHPS, which is a key measure for value-based payment programs under the Medicare program, and used by various payers. In March 2009, 3,711 U.S. Hospitals submitted data for the HCAHPS survey and there is one example we can look at when it comes to significant differences in opinions of proper patient care.
The state of Utah scored above national averages on 7 out of the 10 measures publicly reported. However, Utah hospitals scored below average on communication with nurses, the room always being quiet and explaining medications to patients before leaving the hospital. Utah hospitals are rated higher than the national average overall. While the 2009 national average was 74.0% in patient-nurse communications, Utah's average was only 72.8%. In comparison, patients communicated better with doctors in the Utah average (82.1%) than in the national average (80.0%), which effectively reinforces the notion that patients and nurses need to develop a better foundation for communication.
When it comes down to proper communication, the patient is responsible for informing the nurse of any changes to his or her condition, asking questions about one's condition and what knowledge the nurse has on the condition. When communications are limited or severed the patient develops a sense of vulnerability since he or she doesn't know what is happening. If nurses are not present in providing proper care for patients, then the possibility of anxiety developing in patients increases.
Both parties can do better as far as conducting better behaviors is concerned. When patients are initially checked into the hospital, they naturally carry with them elements of concern, worry and fear because of their condition. It is important that patients attempt to decrease their own tensions and remain as calm as they can. No matter what their conditions are, patients should be aware of the fact that nurses are present to help them, and not to harm them. It is also important for patients who easily get angry not to take their frustrations out on nurses. Emotions do play a role in dealing with one's pain, but all emotions need to be kept in check.
When describing one's condition to a nurse, it's essential for a patient to be truthful and not hide any details about his or her pain. Some details are critical in determining what exactly the condition is. Honesty is a defining trait of one's character and patients being completely honest with nurses help their relationships. Having a good attitude and showing respect for nurses would also help the patient's cause.
Nurses need to be able to handle the pressure and stress that comes with the job. They must be accurate in describing what is wrong with a patient and they must show respect for the patient's health. Nurses must be able to consistently check on the patient and to give the patient the proper amount of space. Giving the patient privacy and dignity positively reflects on the nurse because a patient is not a science experiment, but rather a human being who just needs to heal. A nurse must be compassionate about the healing process in general. Good nurses recognize individuality and have exceptional people skills. Good nurses speak to, and not about, patients as well as showing empathy for them. Nurses should also obtain the power to influence the development of patient care. In the United Kingdom's healthcare system there are certain powers that nurses have that can change the way patients' cases are handled. Informational Clinical Power, Legitimate Clinical Power, Charismatic Clinical Power, Referential Clinical Power, Political Power and Organizational Power are all used by British nurses.
Informational Clinical Power is very flexible and developed through listening, discovering, interviewing, reviewing, examining and being with the patient. Legitimate Clinical Power depends on a nurse's position and credentials. The Nursing and Midwifery Council registry verifies a nurse's power. Charismatic Clinical Power is related to the power to inspire others, which refers back to the core principles of communicating with patients. Referential Clinical Power relates to the act of providing sufficient care without it being a solo endeavor. Political Power involves shaping and influencing policies and processes. Organizational Power involves shaping systems, transactions, tasks, boundaries and organizational life.
Overall there are plenty of things that both patients and nurses can do to enhance and preserve healthy relationships in the hospital and the core principle to take note of would be the act of communicating. If proper communication is not present then neither patients nor nurses will benefit in the most desperate of times.