Glenda M. Burrow
VIP Member of the Month Hospice Nurse,
40 Years
Elisabeth Milbourne, RN
Disaster Relief Nurse

The Doctor Shortage vs. The Nurse Shortage
Keywords: nurse , nursing , doctor , shortage , career , workforce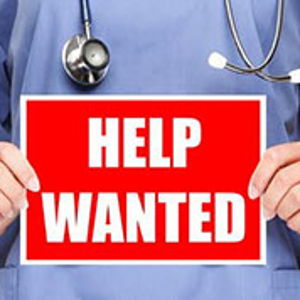 One of the major reasons nurses are leaving their careers is because they are frustrated. They don't feel that they are able to make a difference in their patients' lives, and 20% of nurses who provide direct patient care expressed job dissatisfaction in a 2011 survey. In addition, nursing is bracing for what's being called a "silver tsunami" — a graying Baby Boomer workforce entering retirement.
While some experts caution that we don't know how many nurses will be leaving the workforce, the Bureau of Labor Statistics estimates that 526,800 more nurses will be needed by 2022, an increase of 19.4 percent from 2012, to help keep up with patient growth and replace those who leave.
On the other hand, physicians also face a shortage. One recent study indicated that by 2025, the United States will need as many as 90,000 more physicians, especially those who can provide care for the aging population. "An increasingly older, sicker population, as well as people living longer with chronic diseases, such as cancer, is the reason for the increased demand," Darrell G. Kirch, the Association of American Medical Colleges' (AAMC) president and chief executive, said.
Policymakers have debated the doctor shortage for years, with some arguing that certain types of doctors are clustered in cities and affluent areas, leaving rural and poor Americans critically underserved. The government runs programs to encourage doctors, especially primary care physicians, to practice in shortage areas. Some states help doctors pay off their medical school debt, which can run into six figures, if they agree to practice in underserved parts of the country.
The struggle to fill nursing positions is quite different, and not as hotly debated. The AAMC indicated that although nursing schools still receive large numbers of qualified applicants, many are turned away due to the shortage in nursing faculty. Either faculty are leaving due to retirement -- like their counterparts in health-care settings, they too are aging – or they're gaining higher salaries elsewhere in practice settings other than teaching.
As a result, nurses must adapt. They have always filled the gaps in health care, and that's why they're in high demand—as the glue that holds the fragmented system together. Nurses now must emerge as health-care leaders because those systems that foster nurses' advancement and let nurses' voices be heard will be the ones that attract and retain talent. In the future, health-care organizations must heed nurses' emotional, physical and professional needs or risk losing them. These companies are aware that solutions must be developed in several key areas, including education, personal wellness and recognition.
Health-care organizations have realized that when they take better care of our nation's caregivers, they prove that they value them. About 52 percent of nurses complain of chronic back pain, according to American Nurses Association data, and health-care organizations have begun to recognize that they can help be a part of the solution.
"Increased staff retention and better morale will result when organizations take the time to understand nurses' opinions, offer comprehensive training and follow through to evaluate success. An organizational culture that hears nurses' voices when true change is needed will attract and keep talent," said Martie Moore, chief nursing officer at Medline Industries, Inc.