Glenda M. Burrow
VIP Member of the Month Hospice Nurse,
40 Years
Elisabeth Milbourne, RN
Disaster Relief Nurse

Compassion Fatigue and You: Practicing Self Care
Keywords: nurse , nursing , compassion , fatigue , self , care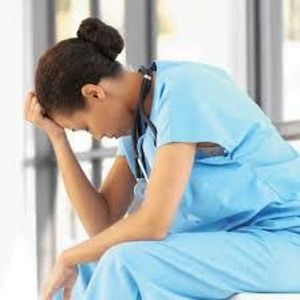 Over 40% of hospital nurses report burnout and exhaustion, and much of this comes from compassion fatigue, or the cost of caring for others. Yolanda Smith, MSN, RN, CCRN, of Brooklyn, N.Y., realized she was suffering from compassion fatigue when she felt low on energy, started isolating herself from her family, and felt physically and mentally tired. She felt the profound emotional pain that occurs when a nurse cares for seriously ill patients for long periods of time. This emotional pain led to a breakthrough, and Smith began Self Care Just for Me (selfcarejustforme.com), an organization that helps other nurses who suffer compassion fatigue.
Smith is not the first to offer these services. Patricia Potter, PhD, RN, and her colleague Teresa DeShields, PhD, created a seminar for the faculty and staff of their hospital to help combat compassion fatigue. Over the course of eight hours, the seminar teaches techniques people can use throughout their day-to-day lives.
LeAnn Thieman, CSP, CPAE-nurse, recognized that nurses need to nurture their bodies, minds and spirits in order to avoid negative consequences of compassion fatigue, and launched the SelfCare for Healthcare initiative (leannthieman.com) to help hospitals create a holistic, caring and inclusive environment that decreases staff turnover and improves patient outcomes.
As a nurse and executive recruiter, Kim Richards, RN, was acutely aware of the emotional demands placed on nurses that often resulted in excessive stress, and founded the Self-Care Academy (self-careacademy.com). A comprehensive program designed to help caregivers take better care of themselves, her program offers nurses a chance to feel better. "Constant stress can lead to burnout, compassion fatigue and nurses leaving the profession," Richards said. "As nurses we have a tendency to over-give and then there is nothing left for us."
Techniques that Smith, Potter, DeShields, Theiman, and Richards have championed include:
Self Regulation: Learn about the stressors that trigger you and discover techniques to control your nervous system during stressful situations.
Intentionality: Develop a personal motto, a creed, to reflect back on why you became a caregiver in the first place. Using this in stressful times will allow you to center yourself and feel less stressed.
Professional Maturation: Consider the ways in which you've improved since you first joined your team. You have touched many lives and you do good in many different ways each day.
Connection: Talk to other caregivers who are in your position. Being able to share stories with others will keep you from isolating yourself.
Self-Care: Consider your feelings first. Leave your cares and concerns at work and focus on yourself outside of the office.
If you're feeling overwhelmed by compassion fatigue, there are numerous resources for you to utilize and techniques for you to consider. Don't let yourself get burned out from compassion fatigue—practice self-care and consider reaching out to others should you need it.
Learn more about compassion fatigue here:
http://news.nurse.com/apps/pbcs.dll/article?AID=2015150324003#.VS7j41zA37W
.